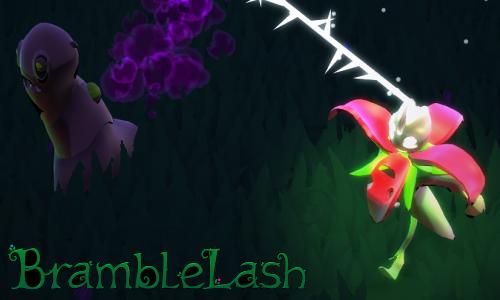 There was once a time where two-player games involved heading out into the garden and running around with your best friend for a few hours. Times may be a' changing, but you can still tap into the age old joys of sprinting through the grass, and working together to slice up slimey enemies. Wait, what? Introducing BrambleLash by local studio ByteSprite, a two-player game where your only defence is to stick together.
The twin-stick shooter with only one stick, no shooting, all co-ordination! BrambleLash is a multi-player party game about communication, co-operation and fightin' grime. Leash up with your planty partner and run sludgy enemies through with your thorny tether, while simultaneously working together to avoid their noxious attacks. Play with your friends, play with your enemies, play with your frenemies!
The first demo for the game has just been released, so if you're keen to tether up and be a thorn in the side of some sludgy foes, simply head on over to the BrambleLash indieDB page. The game will also feature at Playup Perth: After Dark #4 this week. Grab your self a ticket and you will be able to play the game and chat directly with the development team! Fun times for all!