2013 was a great year for our growing community of game creators. From the (sleepy-eyed) enthusiasm of game jam to a cupcakey finale, there was plenty to do, see and make in the WA game-dev scene.
Global Game Jam 2013

Let's Make Games kicked off 2013 with the Global Game Jam, hosted at ECU Mt Lawley over the Australia Day weekend. Over 60 game developers and students crammed into two classrooms for a 48 hour marathon of intense game creation, joining over 16,000 jammers worldwide. Fifteen games were registered by the end of the weekend, with Adventricule winning our judges over and receiving an award prize from sponsors Microsoft Australia.
» Click here to view the 2013 Global Game Jam official wrap up and photos.
 Games In Progress Forum
In May there was the Games In Progress Forum, a collection of micro-talks from local developers about their projects and works-in-progress. It offered an honest look into indie game development, with many developers generously displaying the guts of their creations for scrutiny and feedback. The Forum also included a playable Oculus Rift station, and yoyo's provided by venue sponsor QANTM College.
» Click here to view photos from the Games In Progress Forum.
VRJam Official Playtest Hub
Let's Make Games hosted Australia's only Official Playtest Hub in August for Indiecade and Oculus' VRJam. In the heart of the city, a dozen developers madea range of virtual reality games and experiences in three weeks, with playtesting and demonstration sessions opened to the public every Saturday. The playtesting sessions attracted many interested players and technology enthusiasts, and the Hub went on to become the WA Game Studios co-working space.
» Click here to view photos and videos from the 2013 VRJAM .
WA Games Showcase 2013

The 5th WA Games Showcase was our biggest yet. Hosted in the spacious foyer of the East Perth CIT campus, over 250 attendees came to play the wide range of games; from board games to console games, virtual reality games to handmade arcade machines, there was a huge range of WA game talent on display. Included in the program was a screening of fan film Fallout: Lanius, followed by a Q&A session with the film's director, producer and actors. Even the traditional sausage sizzle came out for a run, keeping attendees well fed.
» Click here to view photos from the 5th WA Games Showcase.
Q&A with Cameron Royal
In October, Perth was visited by CCP Games Senior Programmer, Cameron Royal, who talked with WA developers and students about working on the global multiplayer hit, EVE Online. Cameron provided insights into the studio culture at CCP, his experiences in the hiring process at a AAA studio, and the type of technology required to keep a globally scaled MMO running and evolving. Hosted at the Scitech Lotterywest Theatre, the night proved informative and insightful for developers.
Donut Cupcake Party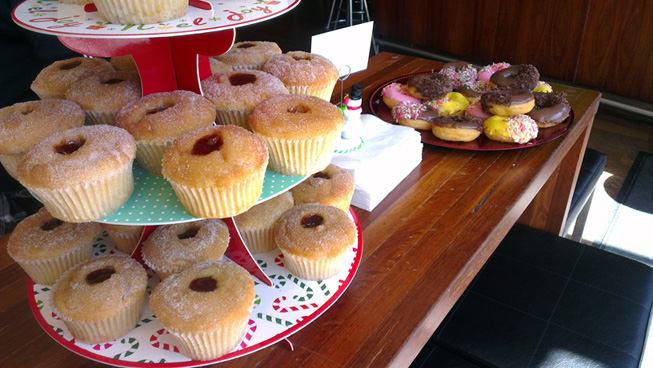 We finished off the year with our annual end of year party, once again at the Universal Bar & Cafe. A great way to celebrate a big year, with plenty of donuts, cupcakes and donut cupcakes to go around. Entertainment was provided by SK Games' most recent octopus-themed arcade game and the usual program of chiptunes and eSports on the big TV.
As well as this hectic event schedule, the Let's Make Games volunteer staff and committee were instrumental in many other initiatives and activities throughout the year. A big thank you to all of the LMG volunteers for their time and dedication in making 2013 a great supportive year for game development in WA.
 Stay tuned for Part 2 of our 2013 retrospective!