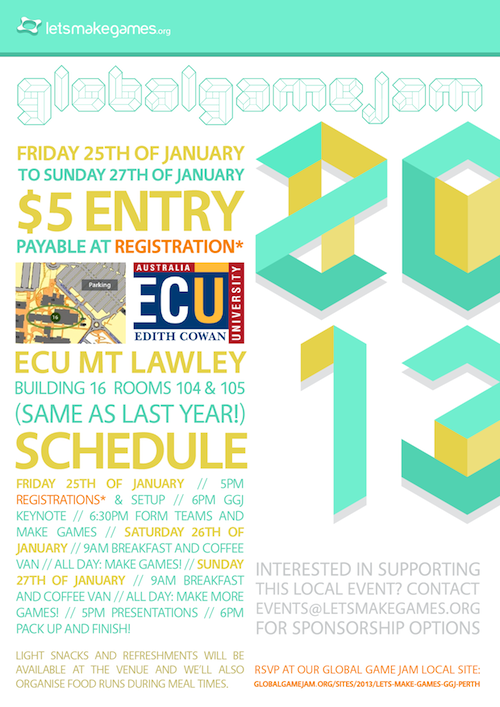 We hope everyone enjoyed a relaxing festive season. We're excited to start our year by hosting Perth's Global Game Jam 2013! It's just under 3 weeks away and you can register for this event by signing up to the Global Game Jam site and joining our Perth Site. Here are some chunky-sized details to help you plan out the 48 hour event.
Details:
Venue:

Edith Cowan University
2 Bradford St Mt Lawley
Building 16, Rooms 104 &105 (same as last year)

Date: 5pm Friday 25th January through to 5pm Sunday 27th January 2013
Entry: $5 payable at the event
Food: Light snacks and drinks provided and we'll also organise food runs during meal times
RSVP: on our Global Game Jam local site
Parking: Free after 5pm on Friday, and for the entire weekend. Park in bays marked: staff, students or visitors.
Internet: Wireless internet available at venue, please see one of the organisers for login details.
Schedule:
Friday 25th January

5pm: Registrations and set up
6pm: GGJ Keynote
6:30pm: Form teams and start making games

Saturday 26th January

9am: Breakfast and coffee van
All day: Make games

Sunday 27th January

9am: Breakfast and coffee van
All day: Make games
5pm: Pencils Down and Presentations
6pm: Clean up, pack up and finish!
What to bring:
Computer(s)/laptop(s)
Art tools
Software tools and APIs (Some event licenses are available for selected tools. Details to come on the GGJ website.)
Snack food and drinks (Some provided)
Personal hygiene products
Air mattress, sleeping bag, pillow if you are planning on sleeping at the venue (Space may be limited)
If you have any questions or are keen to support/sponsor this event, please contact events@letsmakegames.org.