Let's Make Beautiful Music (our August social event) is on tomorrow night (Tuesday, 25 August 2009), and features a Guitar Hero: World Tour competition in addition to the usual socialising, networking, and general good times.
If intending to enter the competition, you can register your band by commenting on this site or using the contact page – or just ROCK UP on the night and register at the door.
Clearly bands will primarily be playing for the eternal glory of being the GREATEST (Guitar Hero) BAND IN PERTH. However, the winning team will also recieve this copy of Guitar Hero: On Tour for Nintendo DS: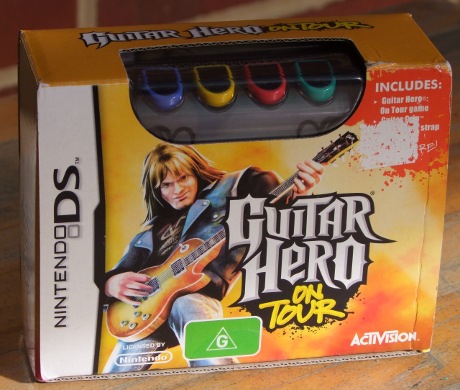 Entry is FREE, so you have nothing to lose! Here are the competition rules:
Bands of 4 people are encouraged but not required. A mic stand will be provided in the case that a singer wants to play an instrument as well. Bands can choose to perform any song from Guitar Hero: World Tour that are 6 minutes or under in length. The minimum difficulty for any instrument on any song is Medium. The tournament will be elimination based on points, with the exact structure determined by number of entrants.
Bands will be scored on 3 criteria with a total of 30 points possible per performance:
Accuracy – Divided by 10 and rounded down to nearest .5, i.e. 89% = 8.5
Difficulty – Awarded by judge, based on the difficulty of the song in relation to band skill, bands can increase difficulty on easier songs with play styles for more points (i.e. using touchboard only, blindfolded playing, crazy solos)
Performance – Awarded by judge, how exciting and entertaining the performance was by the band, including style, attire, audience engagement, energy,etc.
If a band is bringing their own instruments they must be compatible with the Xbox 360 and arrive by 6:45pm so they can be sync with the system.
Thanks to Dan and Anthony for putting these competition rules together! Let's make this another awesome event! 😀
Update: Know someone keen on Guitar Hero or interested in the local game development scene? Spread the word! We're a volunteer-run non-profit group, so any publicity (eg. posting to forums or your blog) helps and is greatly appreciated!