Our August event is just one week away…
and we've decided that it's time to ROCK OUT! with a Guitar Hero World Tour competition. There's even a prize for the winning team!
Details:
Title: Let's Make Beautiful Music
Time/Date: 7:00pm – 10:00pm, Tuesday, August 25, 2009
Location: The Velvet Lounge, 639 Beaufort Street, Mount Lawley
Description: The usual catch-up-over-drinks with a friendly Guitar Hero World Tour competition thrown in for good measure!
Links: Facebook event page. (Also feel free to join our Facebook group to be notified of future events).
Here's the event flier (click on the flier for a printable version), aka your personal invitation. 😉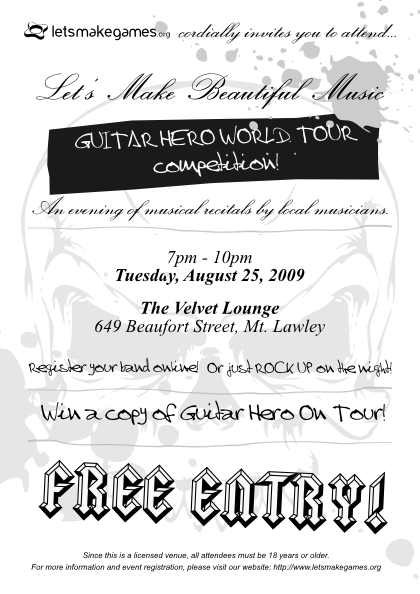 As with all of our events, the primary purpose is always to provide a casual environment for local game developers and enthusiasts to meet, exchange ideas and knowledge, catch-up, and generally just have a good time.
Don't be afraid that there will be nothing for you to do just because you are planning on entering the competition!
Note: If you are keen to participate in the competition, you can register your band in the comments section (just mention your band name and number of people).