Reminder: Can't get enough of local scene events? IGDA Perth are running a Design Theme Night! It starts at 7pm tonight (Tuesday 11 August) at the usual venue (The Velvet Lounge).
Our July social event, What's That in Your Pocket!?!, was a great night for local gamers and developers.
The theme for the evening was "portable gaming" and the main focus was on a number of locally developed iPhone games. The night started off slowly as we worked through some technical problems (audio) and hardware setup (laptop and projector).
Here's picture of us setting up: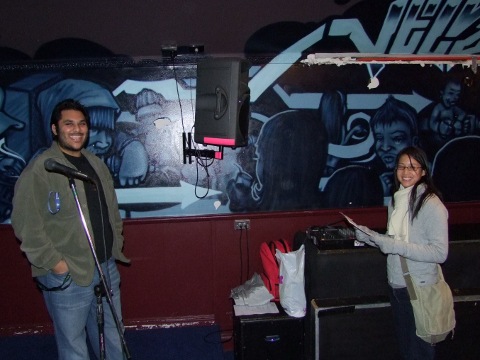 Unfortunately, I was too busy to take more photos when the night got going! As always there were a few early arrivals and we ended up with 40 something people after the official start time.
Dharmesh from GameTraders (Carillon City and Carousel) brought a couple of PSPs so that people could get hands-on with Dissidia: Final Fantasy months before it is due to be released. He brought along a few prizes and ran a low-key impromptu tournament. Final Fantasy fans rejoiced!
A number of local game developers brought their iPhones and iPod Touches in order to causally show off their games. After an hour or so, we switched the projector over from the Dissidia tournament to promotional videos from local developers.
DrewFX showed off their recently released surfing game, Surf Prodigy, and spoke a little about technical and legal issues in bringing it to market.
RocketHands teased their upcoming (first) iPhone game, RocketFuse. They also committed to an easy-to-remember release date of 09/09/09!
Staring Man announced that the latest update to their iPhone game, Pools of Blood, features music from local band Karnivool.
Surf Prodigy and Pools of Blood are available now on the iPhone Apps store, so support our local developers and check them out!
Thanks to GameTraders, all the local developers who brought along videos, and everyone for coming along and supporting these local scene events. Our next event will be on Tuesday 25 August… and it will be music-themed. 😉
For handy reference, here are the videos shown at the event: