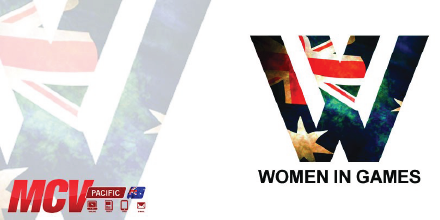 The MCV Women In Games list has returned for its third year, this time featuring 30 hard-working professionals in the Australian and New Zealand games industry. Five local women (and one honorary West Australian) have been included this year, two of which were also finalists in the Women in Games Awards! Highlighting women such as these, MCV is working to inspire the next generation of games makers, and acknowledge the continued contribution of women in this field.
So congratulations to the following devs…
(and thank you for all your work making and supporting games!)
VEE PENDERGRAST
Co-founder of Stirfire Studios
Vee founded Stirfire Studios as a side business in 2010. After working at Brightstar from 2010 through September last year, Vee landed seed capital for Stirfire in June 2016 and since then has raised over $520,000 to grow the company, giving her the opportunity to work at the Studio full time.

Further growth is already on the horizon as Vee told us, "I am in the final stages of completing an ASX/ASIC compliant prospectus and we will be submitting this in the next few weeks. If all goes according to plan, we will be the second game company to list on the ASX (that we know of), targeting a market capitalisation of $5-$7-million.
This is Vee's first time featured on the list, but it will certainly not be her last. Click here to read the MCV profile on Vee.
SOFIE MATHER
Community Manager at Stirfire Studios
In 2013 Sofie joined up with Louie Roots to launch SK Games, a rough-edged studio focused on making physical game experiences and arcade machines, a reality. Since then she has worked behind the scees as a Producer, Manager and Creative Support Person.

Mather was also heavily involved with the planning and execution of 2016 Perth Games Festival and was a driving force behind the Festival's community launch party and the developer-focussed training "Unconference" event, which she also ran in 2015.
Sofie was also finalist for the Unsung Hero category, in the 2017 Women In Games Awards. She was also listed in MCV's most recent 30 Under 30 list!

KATE RAYNES-GOLDIE
Founder/ Creative Director of Games We Play
In February, Kate wrapped up her 3 year contract with FTI to create their games and interactive program, where she was responsible for launching OOMPF! Games, WA's only funding program for the games industry; WA's first games industry scoping survey and LEVEL ONE which is now a regular games co-working opportunity spawning collaboration and innovation.

Kate's now working full time advising in the VR/AR and innovation space as well a number of game projects, including a partnership between her studio Games We Play and Millennium Kids to work with kids as co-creators on a live action mixed reality game that teaches sustainability.
Kate was also finalist for the Outstanding Achievement of the Year category, in the 2017 Women In Games Awards. Click here to read the MCV's profile on Kate. (Also, special thanks to Kate for the awesome team WA photo featured above)
SUSANNAH EMERY
PhD Candidate and Educator at Curtin University
Susannah has a deep appreciation for her students and games education. She highlights increasing school attendance and student engagement in a primary classroom through the integration of a Nintendo Wii in the classroom and using this to explore Australian Curriculum outcomes as one of her greatest achievements to date.

She has also worked with a remote Indigenous community in the NT to develop a framework for game developers and educators, promoting a cross cultural collaborative approach to game development.
While based in South Australia, Susannah both teaches and researches through Curtin University. Click here to read the MCV profile on honorary Perthian Susannah.
MICHELLE SANDFORD
Technology Evangelist at Microsoft
Michelle is a Technology Evangelist who acts as an API between technology and the world. She is the Vice Chair of the Australian Computer Society in WA. She advocates for STEM, the Games Industry and Developers. Michelle has presented at around fifty conferences and events around the world on Technology, Inclusive Design, Diversity and Gaming in the past twelve months.

She tries to stay one jump ahead of the Game(boy) by thinking outside the (X)box. She surfs both waves and webs. And her motto is "Change the World or Go home!"
This is Michelle's second time on the list, well deserved for all her hard work locally. Click here to read the MCV profile on Michelle.
JESS WATSON
General Operations at Lets Make Games
Jessica has continued her work with Let's Make Games, Western Australia's game development community organisation. Having worked as one half of the Operations Team since 2013, she manage the organisation's online presence and community.

2016 was her final year as Coordinator of the Perth Games Festival. Working alongside Jon Hayward and the Festival Committee, they expanded the spaces available for local developers and have continued to improved the accessibility initiatives.
Our very own Jess has also made the list for the second time running! Click here to read the MCV profile on Jess.
_________
Know another inspiring West Australian?
There are so many awesome folks in the games industry working hard and inspiring others with their games, work and support. If there are West Australian in games you think deserve some recognition, please say so in the comments!
We would love to hear about the work others are doing, and a mention here could help some hard-working individuals feel appreciated, not to inspire nominations to awards in the future!