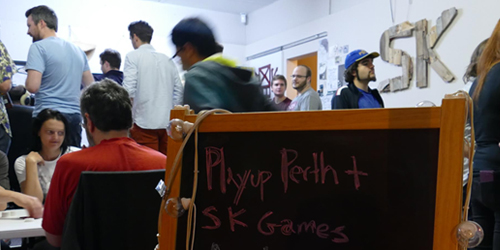 Never been to one of FTI's Playup Perth event at SK Games? Or have you been to a Playup before and enjoyed your time? Well either way, this is your last chance to join the fun at everybody's favourite game dev venue! Yes it's the end of an era, with SK Games hosting its final Playup Perth next month (but fear not, more details on Playup Perth's new location below!).
The first Playup held at SK was way back in September 2014, and since then it has become a much loved event location for local devs and players alike. We'll be saying a warm, snuggly and slightly sad goodbye to our friends at SK, who have adventured on to Melbourne. This is of course not the end of Playup Perth though, as this excellent event will be back again next month at the wonderfully caffeinated venue that is Carpe Coffee.
What: Playup Perth Friday: Last Night at SK Special Edition
When: Friday, 1st July, 6pm til late
Where: SK Games, 167 Fitzgerald Street Northbridge
Tickets: $10 (regular) / $7 (FTI members) via Eventbrite
Extra info: This is an 18+ event
Featured Games
You can check out screenshots for these games below. The full line up for the night has yet to be announced though, so remember to check the Playup Perth website to stay up to date on all Playup related news.
Want to test your games at Playup Perth?
There's still time! Simply fill out the Playup Perth form here.