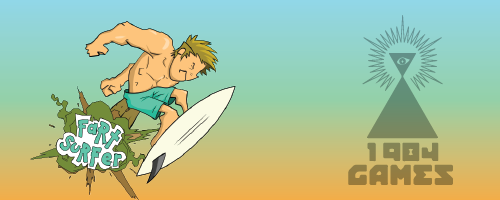 Some games are emotional, some are thoughtful, others still are educational. However sometimes it's just fun to play a game that's downright silly. On that note Fart Surfer, the first game by local studio 1984 Games, will be rocketing onto the big screen at the Perth Cultural Centre as part of the Fringe World Festival.
It is the 21st Century, and Global Warming has caused a tidal wave that is destroying the Earth! A fart with the power of a rocket is the only thing that will save Bazza the Bogan Surfer from death by wipeout! Dodge dolphins, trees, dunnys and debris to stay on the wave; power up with baked beans, and play the game on the big screen – only at Fringe!
What: Fart Surfer on the Big Screen
When: 8.30pm -11.30pm, Saturday 30 January 2016
Where: Perth Cultural Centre, Corner of James ST & Lake Street, Northbridge
Tickets: Free!
For all the details on Fart Surfer, and other special events, head on over to the Fringe World Festival website.