The Oculus & IndieCade VR Jam starts this Friday 2nd August 2013, and we're super excited to see what Perth developers create for it. From the official website:
We're thrilled to announce VR Jam, a long-format, worldwide game jam presented by Oculus and IndieCade. We're putting up over $50,000 in prizes and a showcase exhibition at IndieCade Festival 2013 for the best VR games and experiences!
Ever since the VR Jam was announced last week, we've been working on getting a Perth site up and running. We've been blown away by the level of interest and support, and are very happy to announce that we will be serving as a "Playtest Hub" where participants can share and playtest their games on an Oculus Rift VR headset.
Update: Added flyer! Click the image to download a print-ready version. Thanks to Rich for putting this together.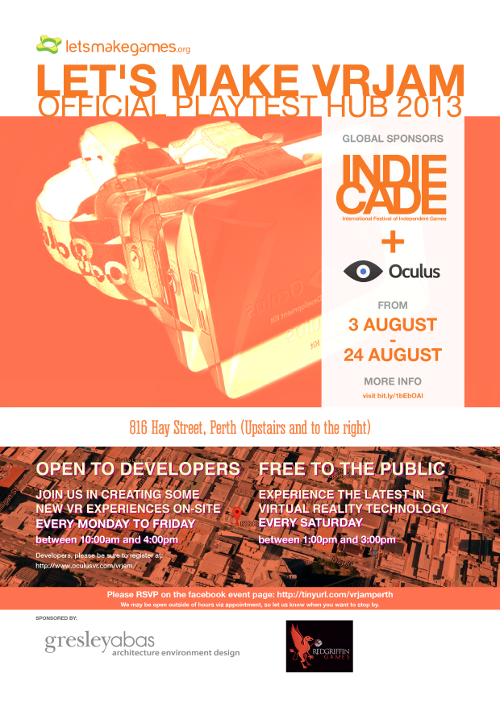 In additional to the demonstration unit provided by Oculus and IndieCade, we expect to have another 5-7 Oculus Rifts and a whole boatload of other devices including: Microsoft Kinect cameras, Leap Motion sensors, Razer Hydra motion sensing controllers, and possibly even a couple of Cyberbikes hooked up.
Details for the Perth Hub:
Dates: 3 August 2013 – 24 August 2013
Location: 816 Hay Street, Perth (Upstairs and to the right)
Opening Hours: Open to developers every Monday to Friday between 10:00am and 4:00pm. Public demonstrations every Saturday between 1:00pm and 3:00pm.
Contact: Via our online form or email to
RSVP: Please join us on the VRJam Perth Facebook event page.
Note: We can be open via appointment at other times, so please contact us if you want to organise access outside of these hours.
If you are participating in the VR Jam, be sure to register on the official VRJam webpage, join our VRJam Perth Facebook group, and take note of these Key Rules from the official website:
Games must be explicitly designed for virtual reality using the Oculus Rift and SDK.
Games must be expressly developed for the competition.
All games should be playable using an Oculus Rift with a keyboard/mouse or XInput-compatible gamepad (e.g. Xbox controller).
A huge thanks to our current supporters and sponsors: Oculus and IndieCade for running the global event and supporting us to become a Playtest Hub; Gresley Abas for providing a venue for the entire 3 weeks of the Jam; Savage Cabbage for their help in testing Internet connectivity and networking; and to all the volunteers who have committed their time to help facilitate this event.
That's it for now. We'll post a print-ready flyer later today. We're still looking for a wireless internet sponsor, prize sponsors, and more volunteers to spread the word around so contact us if you can help out. Media inquiries are also very welcome!
Update: A huge thanks to Red Griffin Games who have come on as a prize sponsor. They're just down the street from the jam site, so be sure to stop by and say "thanks!".