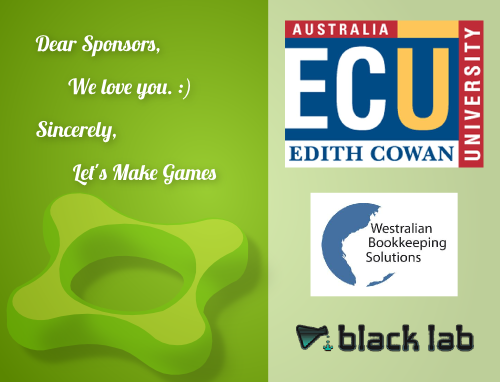 To our newest sponsors, Westralian Bookkeeping Solutions and Black Lab Games:
You are champions, and Show Us Your Bits will be an ever better event as a result of your support! Yeah!
Following are few words from our sponsors and a few quick updates on the event.
Westralian Bookkeeping Solutions
"Westralian Bookkeeping Solutions is the chosen end-to-end bookkeeping service for over 70 West Australian businesses. All of our clients, whether they're a statewide franchise or a sole trader, enjoy a level of professionalism and diligence that only 50+ years of team experience can provide. With a qualified team of Authorised MYOB consultants, QuickBooks experts and friendly staff, Westralian Bookkeeping can solve your bookkeeping, BAS and payroll problems.
Black Lab Games
"Black Lab Games, a boutique game development studio specializing in modern downloadable games with a hint of nostalgic flavor. Headquartered in the city of Perth, Western Australia, the company was established in 2008.
Black Lab Games is an authorised Sony PSP® "minis" developer.
Star Hammer Tactics, a sci-fi themed strategy battle game, was released in 24 European territories in June 2010, and in North America in May 2011."
Black Lab Games is currently working on Star Hammer Tactics for iPad.
Show Us Your Bits update!
Everything is coming along smoothly and we can hardly wait for August 27!
We've updated the flyer in the original event post to include our new sponsors and to make it clear that the event is free and open to the public.
We've got half a dozen confirmed showcase games and we will be confirming our speaker lineup and posting a schedule next week.
Our showreel is pretty sparse, but we've heard from a bunch of people that they're putting videos together, so thanks for your hard work!
We still have a number of sponsorship opportunities still available. Please contact us for more information.
We're also looking for one more volunteer to help out with the BBQ. Please contact us if you'd like to help out!
Please be sure to use the updated flyer if you want to print out copies and spread the word throughout your community, and remember that we really appreciate RSVPs in comments, via the contact form, or on the Facebook event page.
Important: Be sure to pre-register for the showcase (via the contact form) even if you are a "maybe". This allows us to ensure that we have enough space and power sockets!