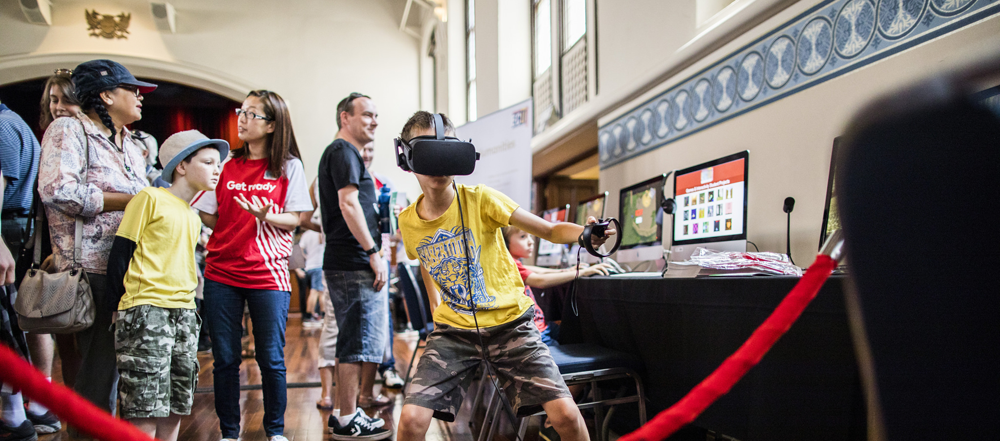 Once again the Perth Games Festival has been and gone, thanks to the involvement of great local developers, brilliant volunteers, and the WA game-making community. As the year comes to a close and you take a break to spend time with family (and perhaps play some of those games on your backlog), look back with us at the big event that was the 2017 Festival.
Get ready to find yourself in the photos, assess all the hubbub in the timelapse and showfloor videos, listen in to podcasts from the day, and prepare yourself for a whole new year of making and playing games in Western Australia!
Interviews with the Game-Makers  
Perth-based games news site GameCloud have once again taken the time to get to know every exhibitor at the festival. You can read their 2017 Festival Report, plus the full coverage of interviews with the all game developers.
Find out how releasing free episodes affects development for a game like The Adventures of Square; what are the challenges of making a fandom-based game like The Coins of McGuffin TCG; and how do you make custom physical controls for a virtual game like Pinball VR+!
Photos
Here's a small selection of the fun-filled Festival photos. Be sure to check out our full album on flickr (where you can grab copies of your pics), or you can tag yourself in our facebook album and send them to your mates.
Podcasts
A number of lovely local purveyors of game-related podcast joined us on the day, both on the main stage and wandering the show floor. Listen in as they talk about the event, and give you some insight into games to watch out for!
Timelapse
And of course we once again have the full Festival experience for you, in the form of the 2017 Timelapse below. Don't blink, or you may miss seeing yourself zoom past!
Special Thanks
The Perth Games Festival is a free, volunteer-run event that simply would not be possible without the support of the Western Australian community. Let's Make Games would like to say THANK YOU to all the Volunteers who step up to help make this event a reality, as well as the Festival Committee who spend their free time planning the event each year!! Remember if you are interested in making-games and working with the local gaming industry, be sure to join our facebook discussion group!

We would also like to once again recognise the contribution of the amazing 2017 Festival Sponsors and supportive organisations, whose backing mean that Western Australian game-makers get the opportunity to show their works to the wider community, and take their projects to the next level.