What treasures await in the mystical landscape of the Great Fall? And is your adventurer nimble enough to escape crushing blocks and spinning wheels of deaths to find them? If you think your dexterity is up to the challenge then Jump Legends, the new game by Fabled Realm, is the one for you!
Jump Legends is a challenging, tap to win game that aims to redefine the endless runner genre. With beautiful transitional scenes and scenery, fully animated unique characters, and near impossible obstacles to overcome, Jump Legends will have you entertained for ages.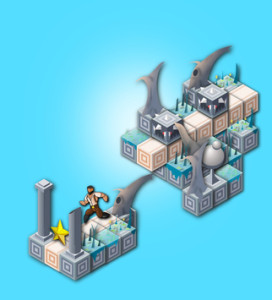 This is the third mobile game from developer Eric Hein, who formerly worked as a geologist, but decided to follow his creative passions to pursue a career in development instead.
My desire to be in control of my time has led to the founding of Fabled Realm. A place for me to develop and share my creations. A place where my imagination can run wild.
So if you like the sounds of this one, simply leap on over to the App Store to pick up Jump Legends for free!