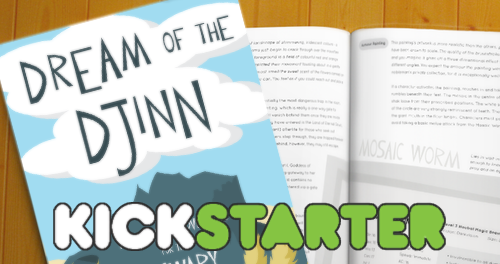 Tabletop Role-Playing Games are the kinds of adventures that are recounted with brimming enthusiasm or, even better, energetic fury. Remember that room of infinite demons? Oh and that thing with the gravity reversal potion?! Ha ha.. what no? Oh well then lucky for you, you have rolled a 20 and found there is still time to get in on the Kickstarter for Dream of the Djinn, a deadly, puzzle-filled tabletop RPG adventure!
A mysterious djinn called Ammerpand has recently arrived in your local city, claiming she will grant one wish to anyone who can pass her challenge. To add credence to her claims, a newly-famous mercenary has already passed the test and been immediately headhunted into a prestigious position in the King's guard, a worthy reward in itself. As for the wish, the local gossip circles have only been able to speculate.

What is your wish?
Created by Perth local Kim Larking, Dream of the Djinn is an RPG adventure module that is compatible with systems like D&D 3.5 edition and Pathfinder. If you think you have what it takes to survive the trials and get your wish, head on over to the Kickstarter page now!