Let's Make Games is proud to announce the 2013 WA Games Showcase.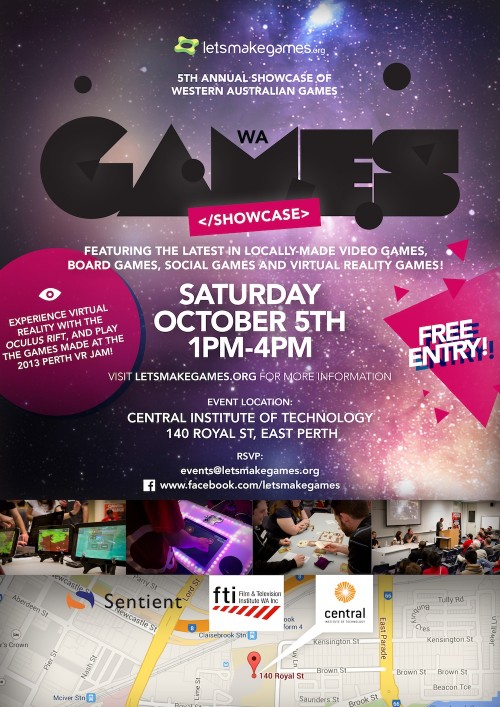 This is our 5th annual showcase of local games and game creators. Each year we see a large increase in awareness of locally made games at our showcase events, and this year should be no exception! We're returning to the East Perth campus of the Central Institute of Technology, in the spacious downstairs exhibition hall. This year we'll have exhibitors showing off the best of WA mobile games, PC games, board games, social games, as well as a showcase of the virtual reality games made at the Perth VR Jam.
What: WA Games Showcase 2013
When: Saturday 5th October, 1 – 4pm
Where: CIT East Perth campus, 140 Royal Street, East Perth
Cost: Free!
RSVP: On Facebook.
Flyer: Print version here.
Visitors
The WA Games Showcase is your chance to play locally made games and chat with the developers that make them! This year the showcase is being held in the downstairs exhibition area of the East Perth campus at Central Institute of Technology, with greater accessibility, plenty of parking, and more room for more games. The showcase is free to attend, and (weather permitting) we'll have a sausage sizzle running for your eats and drinks needs.
Exhibitors
WA game developers, we want you at the showcase! If you're keen to show off your games – any kind of games! – send us an email to and our helpful volunteer team will get in contact with you and register your position at the exhibition.
It is free to exhibit at the WA Games Showcase, and we will have areas prepared for both digital and physical games. We will have tables, power and limited wireless internet available for use; you will need to bring your own hardware, and wireless solutions for any moderate internet usage. If you have any special requirements to showcase your games, just get in contact and we'll figure something out!
Sponsors
Big thanks to our venue sponsor East Perth Central Institute of Technology for their incredible help with the showcase. Special thanks to Viet Nguyen for his graphic design of the flyer.
If you are interested in sponsorship or promotional opportunities at the WA Games Showcase, please send an email to our events team at