Our next event will be next Friday and this time it isn't purely a social affair!
Details:
Time/Date: 5:30pm – 7:30pm / Friday June 4, 2010
Location: eCentral (TAFE), 140 Royal St, East Perth
Description: Short talks on Python and Game Development
We've invited local game developers Simon Wittber and Chris McCormick to present short versions of talks that they are preparing for PyCon AU 2010 over in Sydney.
Here's the flyer (click image for a print-ready version):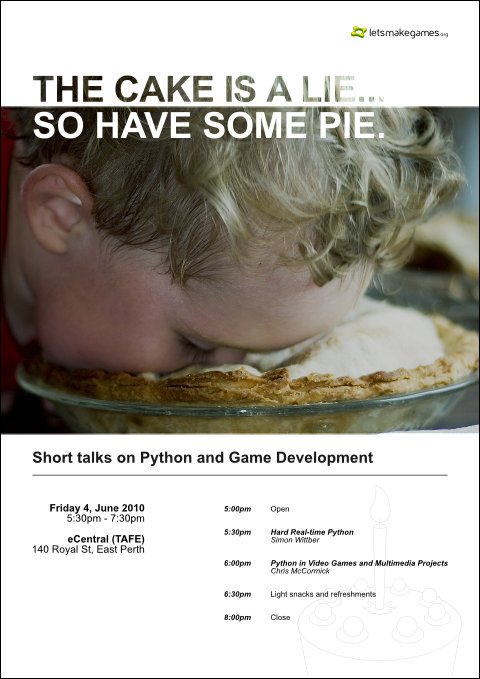 In keeping with the "Py" theme, there will be pie. Or is that a lie? Is this going to be some sort of pie-con? (Our sincere apologies for that pun.)
Hope to see you there!
View Larger Map
Note: We're experimenting with more technical events based on community feedback. If this goes well (good turnout and responses), we may seek to run more. Do you have something interesting to present? Or something that you would like to see a presentation on? Let us know!
Photo source.
Update: Fixed typo. Event is until 7:3pm (not 8:30pm) and doors close at 8:00pm. Sorry for the confusion!