We are currently running community, developer, and games surveys over at:
If you are involved in any way with the games development community of Perth, please take a few minutes to answer the community survey. Collected information will be used to produce a report like this one from last year (only better!)
We're also asking developers (individuals and organisations) to invest a bit more time (answering some more in-depth questions) to let us know all about themselves and their games. We're keen to produce a community and industry directory and to also document the history of games development in Perth.
For all of this we need your help!, as evidenced by this poster: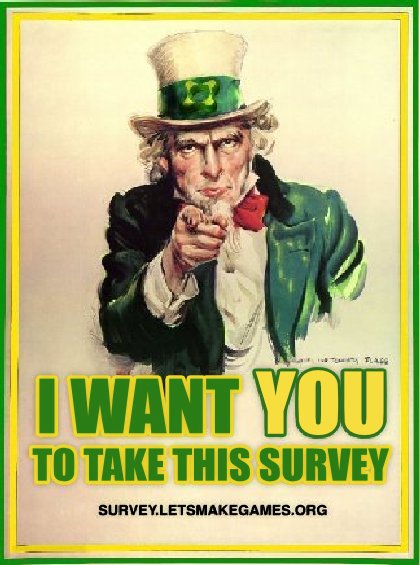 More information is available on the survey website, but please feel free to reply here or contact us if you have any questions.
Update: Some people are reporting problems submitting multiple responses to the surveys (eg. one developer submitting responses for multiple games). If you encounter this problem, please try using a different browser or clearing your browser cache of cookies for the domain survey.letsmakegames.org.
Thanks to everyone who reported this issue. We will be patching the server within the next few days, but there should be no interruption in availability of the survey. So please don't hold out on responding!