iParty 2.0 is finally here.
Here are the details:
6pm – 9pm TONIGHT (Friday, 27 November)
Innovation Centre, Technology Park (see map below)
And now for a few notes…
What should you expect tonight? You'll be met by the organisers and volunteers at the glass-enclosed reception area (nametags will be waiting for those that have RSVP'd). Drinks and snacks will be served throughout the night and raffle tickets will be available for a prize draw at the end of the night. Over in the main party room (the Enterprise room), a video projector will be showing off some recent work from local game developers – who you can meet up with for a chat! There will also be a few tables setup for people to demonstrate their work live. (If you have something to demonstrate, try to arrive a little early – around 5:30pm – so that we can get you setup).
And now for some statistics…
We have: around 600 fancy snacks (sushi, spring rolls, mini-sandwiches, tempura, korrokke, karage), around 400 drinks (juice, soft-drinks, beer, and wine), around 80 RSVPs, 6 raffle prizes, 1 awesome show-reel, 4 tables for demonstrations (bring your laptop!), 12 volunteers in matching t-shirts, and a million butterflys in our collective tummys.
And now for some thanks…
Thanks to everyone who has RSVP'd. Feel free to bring your partners and invite other game developer types (it's not too late). We're planning on around 100 people. Those who work nearby should feel free to stop by from 5:30pm (so you don't have to wait around!).
Obviously we'd also like to extend a HUGE thanks to our sponsors: Different Methods, the Innovation Centre, Subversive Games, Rockethands, Black Lab Games, and Reveries Virtual World:
Finally, here's a map that shows how to get to the Innovation Centre (so that everyone can actually make it there! – click for a larger image):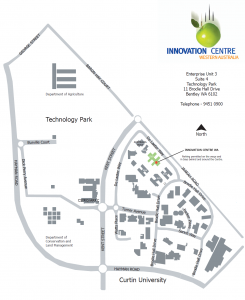 It's going to be awesome. 😀