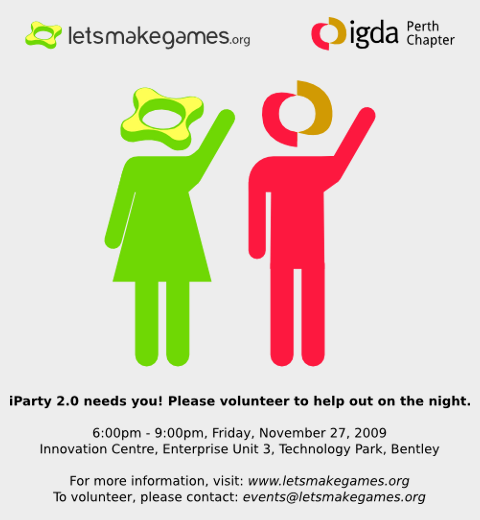 iParty 2.0, the end-of-year party for Perth game developers, is next Friday evening (27 November) and it's going to be so huge… that we're looking for volunteers to help ensure that everything runs as smoothly as possible!
We're looking for 4-8 volunteers to help:
Welcome and greet attendees
Help people with demo machines to get setup
Sell raffle tickets
Usher attendees to the function room (when things get going)
Help out in the kitchen and with drinks
Make cleaning less of a chore when it's all over!
If you would like to volunteer, just let us know (via the email – see image above – or the contact page) and we'll let you know when to turn up on the night (possibly earlier depending on what they are going to be helping with). When you arrive, introduce yourself to someone with an organiser name-tag and we'll let you know how you can help! 😀
As an added bonus, if you volunteer by this weekend (Saturday 21 November) – you can get an strictly limited edition iParty 2.0 volunteer t-shirt!