Update: It was a great event! Click here for photos.

Let's Make Games and IGDA Perth Chapter are proud to present iParty 2.0, the greatest ever end-of-year party for the Perth game development scene!
2009 has been an amazing year for the Perth game development community – with many local game releases, community events, and a number of new companies starting up. The end-of-year party is all about celebrating and showcasing these achievements in a relaxed and friendly atmosphere!
Details:
Title: iParty 2.0
Time/Date: 6:00pm – 9:00pm, Friday, November 27, 2009
Location: Innovation Centre, Enterprise Unit 3, Technology Park, Bentley
Description: Meet local game developers, check out the latest releases, and just have a good time. Food and drinks are on us.
RSVP by November 20 for catering and registration purposes.
Here's the preliminary event flier (click for larger version):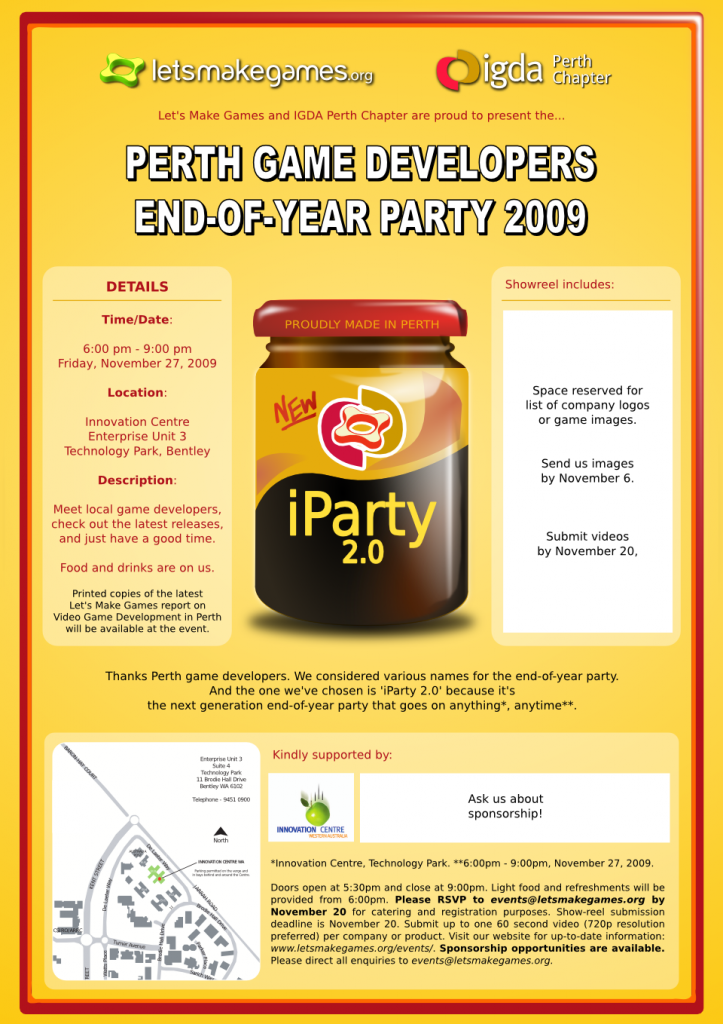 As you can see a few areas are blank and we need your help to fill them in! If you are a local game developer who intends to submit a video for the showreel, please send us some screenshots and a company logo by November 6. Your final showreel videos will be required by November 20.
Showreel video submissions are limited to one 60 second video (720p resolution preferred) per company or product. So a company with two products released or under development in 2009 can submit a total of three videos (one for the company and one per product). If you already have a suitable video online, just send us a link to it!
If you are interesting in sponsoring the event, please contact us for more information as we have many options available (from contributing to food and drink costs to providing raffle prizes). Sponsorship is a great way to get your name out in front of local developers – or just to show your appreciation for the local scene!
We'll release the final print-ready version of the flyer (with game screens and sponsor logos) on November 10.
For now, here are some important dates to mark on your calendar:
Friday 6 November 2009: Final flyer image deadline (for sponsors and showreel screenshots).
Friday 20 November 2009: RSVP deadline (for catering and registration purposes). Showreel video submissions deadline.
Friday 27 November 2009: iParty 2.0!
Also be sure to subscribe to our RSS feed (or check back regularly) for more information on the event. Feel free to ask any general questions in the comments section and we will try to answer them ASAP!
Help spread the word online; This will be the biggest party of the year for the Perth game development scene and we want to see you all there!
Update: Oh, I almost forgot to extend a HUGE thanks to the Innovation Centre who are our venue sponsors for the event. We wouldn't have such a fantastic environment (or as much money available for food and drink) without their generous support!