We're very excited to announce that Let's Make Games June event will be a Videogame Trivia Night!
Pre-purchase tickets are available now exclusively from GameTraders Carillon City and Carousel.
Details:
Title: Let's Make Games Videogame Trivia Night
Time/Date: 7:00pm – 11:00pm, Tuesday, June 30 (2009)
Cost: $10 pre-purchase (any remaining tickets will be $15 at the door)
Food: BYO food (no drinks) or order pizza ($5 per half) on the night!
Links: Facebook event page
Get some friends together, grab a table, bring food, and have a good time! Please note that handicaps will apply for teams of more than 8 people, so try to form teams of 8 or less.
The schedule for the night will be:
7:00pm: Doors open
7:30pm: Pizza orders must be in ($5 per half)
8:00pm – 10:00pm: Trivia (4 rounds with half-time intermission)
11:00pm: Venue closes
There are some great prizes lined up and you don't need to be a video-game genius to win something. The questions will be varied and we'll have door prizes and fun challenges that everyone can participate in! 😉
Finally, here's the event flyer (click image for a print-ready .pdf file):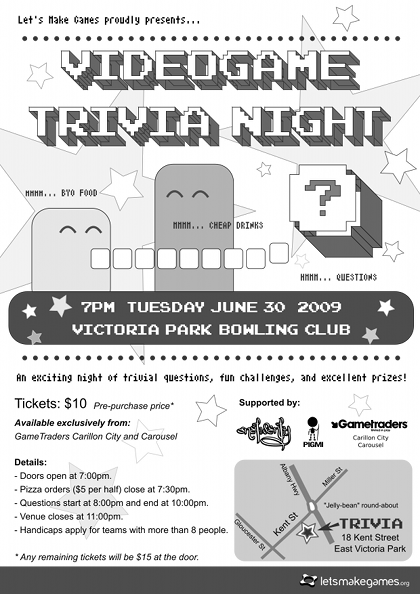 Please feel free to print the flyer out and post it where it may be of interest (or let us know in the comments section where we should post our fancy colour flyers!)