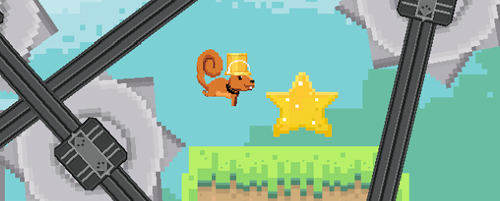 Escape the rat squirrel race and seek adventure, as the pencil-pushing rodent Rodrigo in the latest game from Bart Borkowski. Filled with collectable coins, special stars, and whirling saws of death, this game may seem cute but it's quite a challenge for an average squirrel.
A retro-style platformer where you play as Rodrigo, a late 20-something corporate-squirrel yearning to break away from his bleak life of pushing paper for a taste of action and adventure. Will he go all the way, or will he slip and fall to the fate of the cruel, cruel world? That depends on your skills, if you have any… So put them to the test!
Rodrigo is out now for free via Google Play or Itch.io, so scurry on over if you too are ready to break out of your corporate cage and run free with the wilder-squirrels.