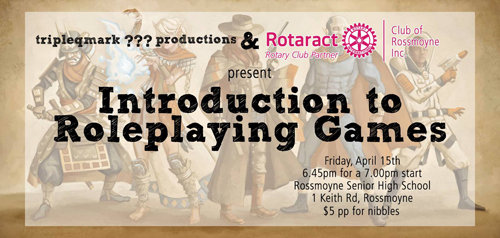 Want to know more about the realm of Roleplaying Games, but don't know where to start? Let local developer Eeshwar of Tripleqmark Productions help you get started in this upcoming workshop, hosted by the Rotaract Club of Rossmoyne.
What: Introduction to Roleplaying Games
When: Friday, April 15th. 6.45pm – 8.15pm
Where: Rossmoyne Senior High School. Keith Road, Rossmoyne, WA
Tickets: $5 via Rotaract, which covers the cost of nibbles!
Ever wondered what tabletop roleplaying games are about? Why do you use all those weird looking dice? And is that a balance sheet in front of you? In this light and friendly introduction to roleplaying games we'll discuss all of these things and more, and you'll get the chance to play a hero in a short game!
You can find out more about the Introduction to Roleplaying Games workshop via the Facebook event, or the Rotaract information page.