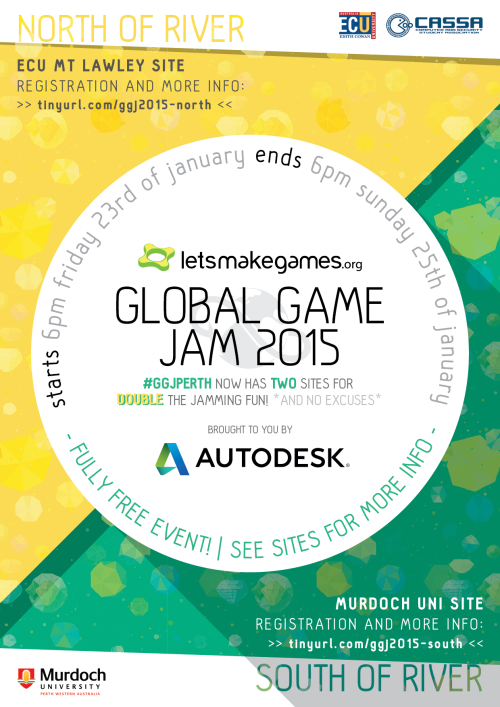 It's an exciting time of year; the Australia Day weekend, when we celebrate the Lucky Country with a 48-hour game jam with the rest of the world.
Let's Make Games is proud to host the Global Game Jam in WA again, and this year we're running two sites, one on each side of the Swan River!
The Global Game Jam is an annual game development event that sees game developers from every corner of the globe spend 48 hours over a single weekend to come together and create games. Western Australia has had a long history of participating in the GGJ, and we're very happy to continue the tradition.
You can find some preliminary information and sign up forms for our two sites – ECU Mt Lawley and Murdoch University – in the details section below.
This year we have a great sponsor on board that will help us make this the best Global Game Jam yet. A big thanks to Autodesk for supporting the WA game making community! A word from Autodesk:
Autodesk Cost-effective video game development software
Maya LT™ game development software is built to help professional indie video game creators realise the full potential of their designs. It provides a powerful set of creative tools and workflow at an affordable price.
Details
What: Global Game Jam 2015
When: Friday 23rd January – Sunday 25th January
Where: ECU Mt Lawley & Murdoch University
Registrations: ECU Mt Lawley / Murdoch University
Cost: Free!
Age: 15+ (under 18s have limited access to site)
Facebook: Here.
Twitter: #ggjperth
Participants just need to bring their own hardware and creativity, and we'll be providing the venue, power, internet and gamejam themes! Participants will receive an email before the jam with more details, including opening times, room numbers and catering order information. We have venue capacity limits, so make sure to register early to secure your place!
A big thanks also goes out to our gracious venue hosts; ECU & CASSA and Murdoch University. If you'd like to see what a game jam looks like, you can check out our video of last year's GGJ by Ben Hammersley.