Always keen to support the gaming types of Perth, the good folk at FTI have organised another informative event to help us get the best out of our games. Presented by Christy Dena, a writer-designer-director and lecturer with many an award/game/digital project to her name,  event will explore the depths depths of games and the messages we can convey through them.
In this lecture and workshop, we will delve into the design of games that have a message, are personal, philosophical, transformational, or focus on the emotional journey. On top of game design techniques, deep games involve different processes and design considerations. To illuminate how they can be designed more effectively, various deep games will be deconstructed to highlight the writing and design techniques employed. In the workshop we will apply different methodologies to develop deep game ideas.
What: Lecture 2:00pm-3:00pm, Workshop 3:15pm-5:15pm.
When: Sunday September 21, 2014
Where: FTI Screen Lab @ State Library of WA, Northbridge
Tickets: via TryBooking.com
Lecture $15 for FTI/AWG Members, $20 Regular admission.
Workshop $20 for FTI/AWG members, $30 Regular admission.
Bundle – Buy a ticket to attend both the Lecture & Workshop and receive a discount. $30 for FTI Members, $40 Regular admission.
About the Presenter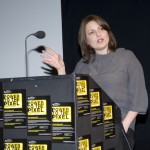 Christy has given keynotes and presentations around the world, mentored industry professionals, and written numerous articles on writing and design. We would definitely recommend checking out her corner of the universe before the event, to get an idea of the many things she knows – and in turn the many subjects on which you can ask her for advice!
For more information on Designing Deep Games, head on over to the FTI event page. But be quick, places are limited and the event is coming up fast!