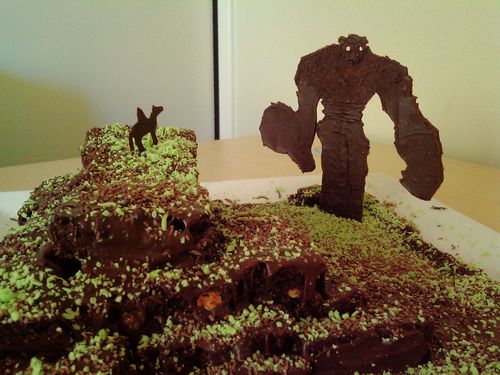 With a chocolate brownie mountain sustaining us today (expertly crafted by our videographer Ben Hammersley) we have some news to report before our sugar high crashes! Brownie points for whoever can guess which game this scene depicts (answer in the comments).
Pozible Funding Drive
We've got two weeks left on our Pozible drive and have published some more details on where the monies will be spent. Obviously, it's not going to an undisclosed bank account in the Bahamas.
Theatre Games
We recently met with WAYTCO last week and discussed some aspects behind game design and introduced them to the social game 'Ninja'. Yattaa! It was great fun seeing theatre combined with street games and wish them good luck for their next production. Hopefully some game mechanics will feature!
Local Game Release: Orbeats
Congratulations to WRK Studios on releasing their first game, Orbeats. Our very own secretary Rich Kong is part of the three person team. Currently they're fifth on the music game category of the Australian app store. It is also local indie game publisher Stirfire Studios' first game. We wish them well!
National Cultural Policy Review Report
Now onto more serious news, if you were wondering what eventuated out of Digital Culture Public Sphere discussions, a report has been released on Kate Lundy's website.
Our favourite quote from the event is this pearl of wisdom from Simon Crean:
"The games industry is in effect the next iteration of the film industry, because it embraces interaction."
The WA game development community is well-represented in the report with many of the points arising form our Roundtable discussion featuring in the top 10 suggestions in the Game Development section. How's that for east-coast / west-coast game developer solidarity!
Website updates
We've recently added the following pages to our website:
If you are based in WA and would like to see your developer profile or game listed on this website, please get in contact with us.
End of year party (RSVP!)
Our end of year party is coming up and we're putting together a show reel which will be screened on the day. If you would like to have your game included just provide us with a link to your video (Youtube only) by Friday the 25th of November.
We'd also like to remind and encourage everyone to RSVP for the end of year party (either via the contact page or our Facebook event page). We tend to get a whole bunch of last minute RSVPs and then a bunch more people who turn up on the night.
It's fantastic that people turn up, but we really want to make sure that we have the right amount of food and enough space for everyone. So please RSVP ASAP, invite your friends and remind them to RSVP too! It's the easiest way that you can help us out!