Let's Make Games (LMG) is an initiative to foster the growing game development community of Western Australia.
Current members include:
John Parker, Chair
Kitty Byrne, Vice Chair
Brendan Ragan, Treasurer
Brad Power, Secretary
Jess Watson, Ordinary Committee Member & General Operations Team
Jon Hayward, Ordinary Committee Member & General Operations Team
Wesley Lamont, Ordinary Committee Member
LMG is a non-profit association incorporated in July 2011. We support the game development community of Western Australia (the Community) by achieving our Constitution objectives:
to hold events that engage the Community and the interested public;
to record and showcase significant activities and achievements of the Community;
to maintain a website with information relevant to the Community, and the interested public;
to maintain an online presence to facilitate communication within the Community, and with the interested public; and
to raise the profile and advocate the interests of the Community.
For more information on the game development community of Perth, please browse our website and follow our collected links (to local games companies, other local associations, and related websites).
For all inquiries (eg. additional information, sponsorship, donations, consultancy), please don't hesitate to contact us.
The History of LMG
Former (but still loved) members:
Nick Lowe, Founder
Minh Tran, Founder
Richard Kong, Secretary
Anthony Sweet, Treasurer & Operations Manager
Ben Hammersley, Photographer/Videographer
Chris McCormick

Dan Eichling
Originally started by Nick Lowe and Minh Tran (members of local community group, OneTwenty) in early 2009, Let's Make Games grew to a four person operation with the addition of Anthony Sweet and Dan Eichling (who has since moved to the United States) in mid-2009. The following year, Richard Kong and Ben Hammersley joined as official videographers and Chris McCormick also came onboard as Let's Make Games formed a close relationship with the Perth Independent Game Makers' Initiative (PIGMI). Richard later went on to join the LMG Committee, taking on the role of Secretary.
Then in May 2011, Let's Make Games set to become an official Incorporated organisation! As Let's Make Games Inc., the organisation continued to support the local community with annual showcases and developer events…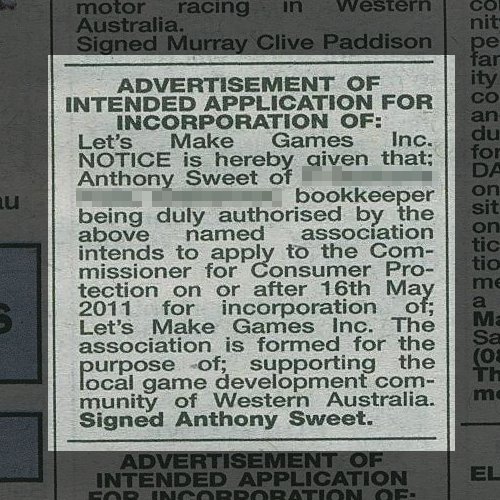 Following the 2013 games showcase, Jess Watson joined the General Operations team alongside Anthony, to assist with events and write news content for the site. To further celebrate the games and developers of our fine state, the annual showcase became the Perth Games Festival in 2014. This initiative, coordinated by Anthony Sweet, acts to share locally-made games and give the wider community an opportunity to  connect with WA developers. In 2015, Anthony scaled back his role with Let's Make Games, and Jon Hayward (a developer who has provided support to LMG and the game dev community for many years) stepped into the General Operations team.
Early in 2016 founders Nick and Minh, alongside Secretary Richard, stepped down from their positions in the Committee after many years of service to the Western Australian game dev community. The new members, unanimously voted in by existing members, were John Parker (Chair), Kitty Byrne (Vice Chair), Brendan Ragan (Treasurer), Brad Power (Secretary). Additional Ordinary Committee Member roles were also voted in unanimously, with Jess Watson and Jon Hayward of the General Operations Team, and Wesley Lamont joining.