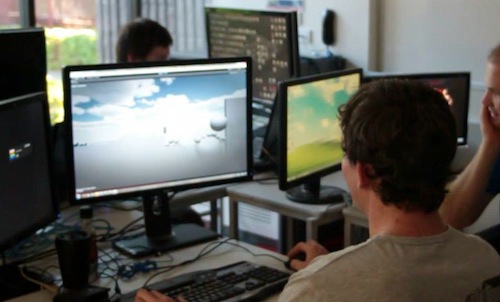 One of the most anticipated parts of the Global Game Jam is the last hour, when everyone gets a chance to stand up in front of the room and show off the game they had determinedly been making for the last 48 hours. With two sites of jammers participating this year, this was going to mean that you wouldn't be able to see all of the games made in Perth.
That was until SK Games stepped in and helped us organise the "#GGJPerth: After The Jam" presentations. Taking place on the Saturday 31st – the weekend after Global Game Jam – this is an opportunity for jammers to show off their 48 hours of work (plus maybe an extra one or two after the jam, no one will mind!) to families, friends and other #ggjperth participants. Taking place at the Urban Orchard Tent as part of SK Games' showing at Fringe Festival, After The Jam is going to be the perfect recap of Global Game Jam 2015.
What: #GGJPerth: After The Jam
When: Saturday 31st January, 5pm – 7pm
Where: The Urban Orchard, Perth Cultural Centre Garden, Perth (directly in front of the Art Gallery of WA)
Cost: Free!
Facebook: Here.
With thanks to our event partner SK Games, game jam sponsor Autodesk, and game jam venues ECU & CASSA, and Murdoch University.