Attention all Perth-based Pitchers!
If you were still not convinced that pitching would be a great opportunity for you, Spacecubed, our very generous venue sponsor, will be giving away 2 x 1-month unlimited Subscriptions to Perth-based Pitchers.  This means that you get to use their great space for as much as you want for a whole month!  This is great for indie developers or freelancers who want a great, quiet and spacious working space with high-speed internet and friendly neighbours; or maybe for businesses who want to trial the space for their side projects, functions or meetings!  You can read more about their membership options over here.
The first prize will be awarded on the night by Spacecubed for best pitch of the night and the second prize will be awarded through a poll for most popular pitch on the LMG Facebook page following the event.
Spacecubed will be doing their Grand Opening on the 20th of June so put it in your calendars.
Photo courtesy of Spacecubed flickr stream.
1 Day left to register for a pitch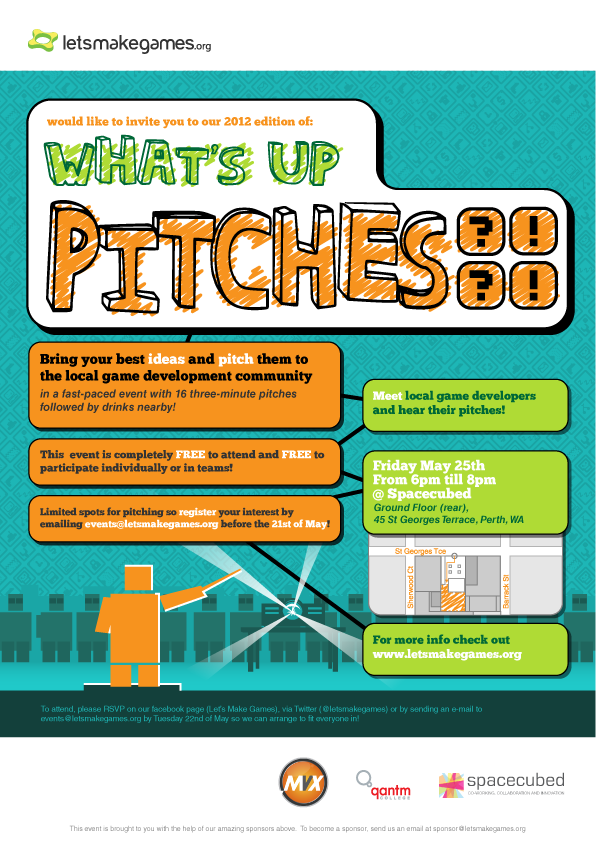 As a reminder, you have till tomorrow to register yourself or your team for a pitch(for FREE!) and have a chance to get your ideas out there and into the community as well as your chance to win a month's worth of unlimited usage of Spacecubed!
To quote Nick on our event page:
We still have pitch places free and want to hear from a wide range of people: students, artists, programmers. Especially if this is your first event, don't be shy!

Feel free to pitch esoteric things such as: preferred tools, programming languages, or libraries; under-utilised game design elements; workflow recommendations; game critiques; post-mortems; etc.
Send us an email at if you want more info!  Attending the event is completely free so even if you're not pitching we'd love to see you this Friday 25th of May!